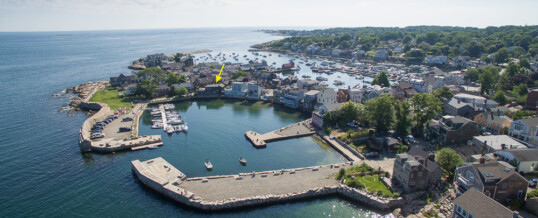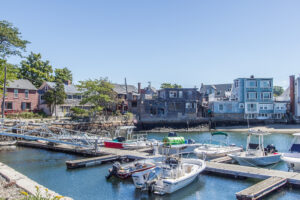 Sold in February 2023.
Nestled among the galleries, shops, and eateries on legendary Bearskin Neck (ca. 1695) stands this harbor front property. Bearskin Neck in Rockport Massachusetts is a prime destination for locals and travelers from afar.
This property has a long history as a studio, gallery, and residence. This gambrel style home, with weathered shingles is anchored to a massive granite foundation on Rockport Pier.
No bones about it, this property needs restoration & reconstruction. It's a challenging site and structure. However, living and working on the waterfront affords beautiful views of Rockport's Old Harbor, the village and Sandy Bay.
On the first floor are a combination of show room, studio, workshop, and gallery and a large cut granite fireplace.
The second level offers a spacious bedroom, living room, kitchen and a deck with unparalleled views of the rocky Atlantic coast, scenic coves with working and recreational boats, and the hustle and bustle of Rockport.
For centuries the wharf has been home to heavy industries of timber, fishing, and granite. Today, Rockport is home to the world class Shalin Liu Performance Center. This property offers potential for both residential & commercial opportunities. There is coveted parking for four cars.
Contact John & Cindy Farrell 978-468-9576