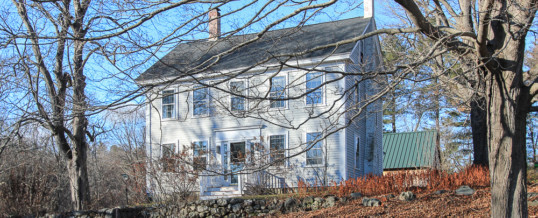 Sold for $745,000 April 2017. See properties currently on the market in Topsfield, MA.
This Colonial farmhouse called "Hempstead Acres" was built circa 1860. This home and it's beautifully restored two and a half story barn enjoys 9.24 acres of fields and woodlands and is located right near the village center of the historic town of Topsfield, Massachusetts. Beautifully sited high on the land, with fruit trees, a horse carriage trail and a view that overlooks the field in front. Enjoy Boxford State Forest nearby and Willowdale State Forest.
An inviting and homey 19th century home that can be enjoyed throughout the seasons with wood burning fireplaces in both the kitchen and living room, and the three season porch located off of the country kitchen with it's walk-in pantry and a guest bathroom down the hall. The dining room is spacious, there is a first floor family room and two staircases leading to the second floor from the front foyer and kitchen.
On the second floor are five rooms and two full bathrooms. Depending what living space you need, there is a room that works perfectly as an office and another one currently used as a studio, activity and play room.
There are beautiful wood and pine throughout most of the home. There is a large mud room entrance and an attached garage. The property also has a well. Easy access to Route 1.
Not far from Bradley Palmer State Park and Massachusetts Audobon's Ipswich River Wildlife Sanctuary.
Contact John & Cindy Farrell for real estate on the North Shore. 978-468-9576
Save
Save
Save
Save
Save
Save
Save
Save
Save
Save
Save
Save
Save
Save
Save
Save
Save
Save
Save
Save
Save
Save
Save
Save
Save
Save
Save
Save
Save
Save
Save
Save
Save
Save
Save
Save
Save
Save
Save
Save
Save
Save
Save
Save