Live and work on the North Shore. Hamilton Massachusetts property can help that happen!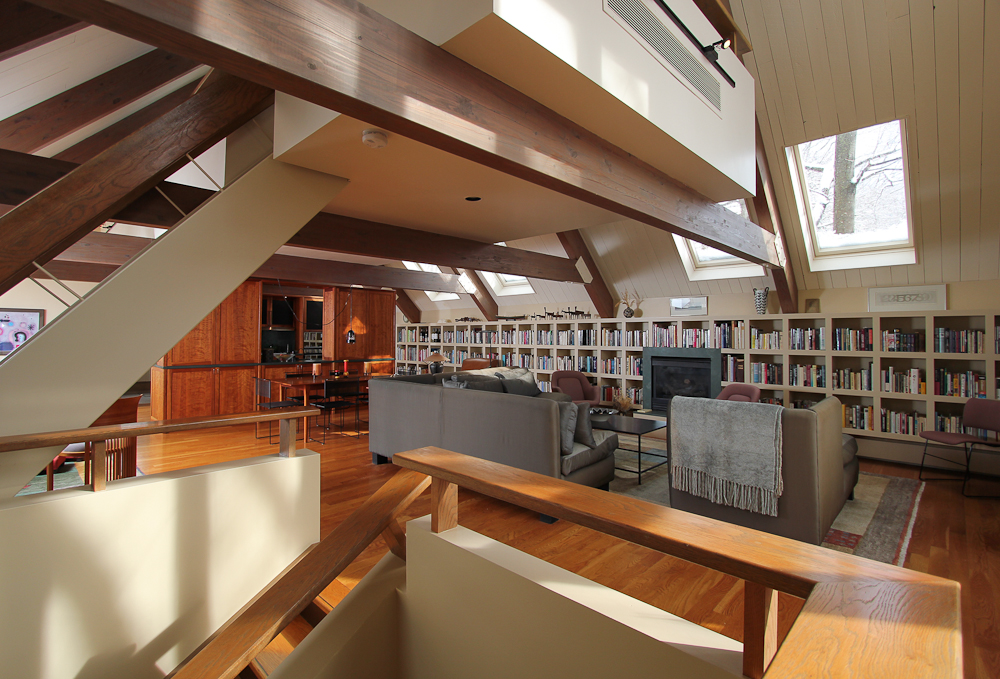 Off the market.
Unique, versatile and rarely offered property opportunity. Even if you aren't looking, you may want to consider this one. Architecturally designed and beautifully finished, this property has a fabulous location on the corner of Bay Road and Bridge Street. There is much flexibility in the way it can be used. Single family, single with an apartment, or the first floor can be used for commercial space or studio with the upper floors as residential. Impressive and dramatic, this home offers both fabulous open space and cozier private rooms.
This property's key location is further enhanced by the primary living area's existence on the second floor, maintaining residential privacy. Remarkable design with high ceilings, large windows and skylights.
The kitchen is striking, spacious and well-planned with plenty of smartly designed cabinet space. Extremely functional, it offers the ability to easily hide kitchen work when not in use. The raised cherry panel cabinets are highlighted with black insets. The Vermont green slate counters complement the gas stove's green marble back splash. Behind the open kitchen is a pantry room with work space, and a laundry room that can be closed off. At opposite ends of the kitchen, there is dining space and a small desk area. The living room has a Vermont slate faced gas fireplace that can be viewed and enjoyed from the family room area, and dining room equally and are connected by maple flooring throughout. There is a loft that rises above the center portion of the open space. The stunning guest bath features green marble tile and walk in shower highlighted by white fixtures. Both the guest bathroom and the master bedroom have radiant heat. Intriguing stair system and great lighting through out.
The master bedroom has interesting architectural detail, high ceilings, and radiant heat. The master bath is divided, with two separate sinks on either side of the room and individual closets near each, a sky lighted tiled shower room and a water closet.
The first floor offers generous office space with an open living, dining and reception area featuring cork, tile and wall-to-wall carpeted flooring. This level includes second kitchen, laundry, bedroom and a full bathroom. The private entry is inviting with a tiled foyer and coat room. There is a second bedroom with sliding glass doors and a full bath.
Driveways are located on both the Bay Road and the Bridge Street sides of the property, providing the opportunity for private entry for each unit or to separate the work from the home spaces. The two-car garage is drive through with doors that conveniently open to both sides. The property is mindfully landscaped to be easy to care for and low maintenance. Attractive to the many people that want to give up the yard work but don't want a condominium.
Attention to detail has not been spared with the systems, including the heating and two central air. Additionally, each unit has a reverse osmosis system for drinking water.
The owners have done an exceptional job of taking a property that was once a corner gas station and turning it into a versatile property with high appeal and contemporary design that blends seamlessly into the center of Hamilton's historic district.
See the photo slide show below and video.
John & Cindy Farrell
Doug Trees is one of the owners and Architect and has shared his thoughts on the property.
"I have lived in this building, in one way or another, for 30 years. In 1984 I bought a one-story masonry gas station and converted it to a contemporary two-story space to house my businesses: D.F.T.A Architects and Lindentree Corporation, contractors. Then, in 2002, I converted 70% of the space into a dramatic residential space with 30% retained for my architectural office. The residential access from Bridge Street and Bay Road commercial access has served this split personality very well.
With my years of experience in designing and constructing homes for clients, I sought to incorporate what I thought to be the best elements of those experiences, all inspired by my joint admiration for Scandinavian and New England architecture. Given my years of involvement in construction, I was determined to create a building that was solidly as well as dramatically constructed with many design features. The building reflects this belief in high-quality craftsmanship and attention to detail combined with a wow factor.
The home incorporates numerous technical and energy-saving features including passive solar energy generated via the expansive south-facing windows (shaded in summer by a removable awning) and high-insulation values including Structural Insulated Panel construction and in-floor heating in the bedroom wing, which was added in 2002.
After moving here from a 4300-square-foot home two blocks away, we have not missed a thing, including the two acres of grass to mow. If we could pick up the building and move it to a warmer climate we would."
Douglas Trees, Owner and Architect