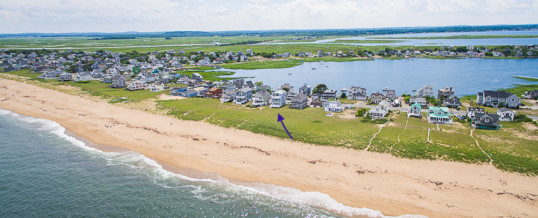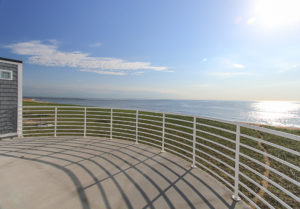 See the aerial video tour of this home and it's spectacular location.
"Wild Plum", this one of a kind year round ocean front home is sited on one of New England's iconic beaches – Plum Island. This home was built in 1998 and substantially expanded and remodeled in 2005. It now sits strategically higher than surrounding homes which affords spectacular ocean views from Maine to the north to Cape Anne to the south, as well as water views over the wide Newburyport Basin to the west. The house's many windows capture the light from all directions.
Plum Island is an 11 miles long barrier island, with 10 miles of continuous sandy beach. More than half of the Island is wild and undeveloped as part of the Parker River National Wildlife Refuge.
This home is on a more private section of the beach and its replenishing shoreline is protected by several offshore sandbars. The interior floor plan and three exterior decks provide both privacy and spectacular 360 degree views.
The first floor open floor plan offers hardwood floors, an entry foyer with wood cabinets, an eat-in cook's kitchen with maple cabinets, granite counters and stainless steel appliances that include a 6-burner DCS professional gas range, a living room with additional dining space, and a powder room. Large patio doors open to a deck overlooking the seagrass on the dunes and the ocean beyond.
On the second level, the master en suite bedroom has expansive views of the ocean, and two additional bedrooms with a full guest bath have water views over the Newburyport Basin.
The piece de resistance is another family room which occupies the entire third floor, with a gas fireplace, wet bar, wine cooler, fabulous Jerusalem stone floor and access to two of the decks. The ocean facing deck provides glorious sunrise and moon rise views, and the westerly facing deck captures sunset views which paint the entire western sky pink, with reflections over the waters of the Basin.
The HVAC system servicing the house consists of a new high efficiency air conditioning and heating plant, a Munchkin boiler providing hot water and radiant floor heat to the second and third floors, and a separate heating and air conditioning unit serving the third floor. The building envelope is protected from the elements by insulated and storm rated windows and patio doors and electric hurricane shutters. An ADT monitored security system provides burglar, fire, smoke and freeze sensors.
Plum Island is an 11-mile long barrier island more than half of which is wild and undeveloped as part of the Parker River National Wildlife Refuge. The house is minutes from historic Newburyport and a short 45-minute drive north of Boston
Below the photos, read what the owner has to say!
Contact John & Cindy Farrell to see this home. 978-468-9576
Mornings on Plum start with viewing the sun rises out the master bedroom window. The sounds of the surf encourage you to get moving to brew coffee and take a seat out on the first floor deck or, if the weather is gray, the third floor view captures the moving clouds and surf. The Mad Martha Cafe just down the street provides delicious breakfast and lunch if more incentive to get up is required. A bike ride to and through the Wildlife Refuge is a morning priority. Lack of car traffic and abundant bird life make the Refuge ride a real escape from whatever pressures you want to leave behind. You could cast from shore to catch lunch or drive 3 minutes up the Plum Island Turnpike to Bob Lobster for fried oysters, haddock, lobster rolls or choose your very own live lobster which will be steamed for pick up later. A Sunday trip to the Newburyport Farmers Market or Tendercrop Farm will also refill the larder. Spring brings the fragrance of blooming beach roses, lilacs and wisteria mixed with the scent of clean sunshine and a bottom note of ocean. I wish we could bottle it. Yellow triangles appear on the beach to mark where the Plovers have built their nests. Summer afternoons are spent on the beach. Autumn brings us inside for college football and the baseball playoffs. The winter views of sky and ocean are a kaleidoscope of drama and beauty enjoyed in front of the third floor fireplace. A late afternoon gin and tonic on the beach, if possible, is the forum for dinner discussions...grill in or go out? Dinner usually takes us to the Plum Island Grill down the street or to Newburyport to one of the many restaurant choices. Brine provides high style food with a changing seasonal menu. Celia, Agave, Oregano, Loretta's, Grog, Sea Level Oyster Bar, Glenn's and the Black Cow all offer excellent food and service. On Liberty Street are three temples of yum. Figs, a small cafe with wonderful homemade food, Buttermilk Bakery where everything is beautiful and tastes even better and Abe's Bagels which will spread your warm bagel with any schmear you may desire. So it seems I've made it back to morning! Our time on Plum Island has been rich with being close to family. Our children were all in Boston when we bought the house and we have had tons of fun here. Two Boston weddings, multiple graduations, and the birth of three Boston granddaughters have all been celebrated here. Many birthdays and Thanksgivings and the pleasure of being together have filled the house with family voices. The house expands to fit us all. And when they all leave, Ralf and I enjoy the beautiful serenity offered here again. Our daughter moved to Denver and as more grandchildren require their parents to buy suburban houses our time for Plum has shrunk. Ralf and I are retired in Florida and spend our summers in Jackson Hole, Wyoming. Both locations are a long drive to Plum Island. But we will hold our Plum memories very close. It is time for someone new to make memories in this very special spot. – Kathy Boer