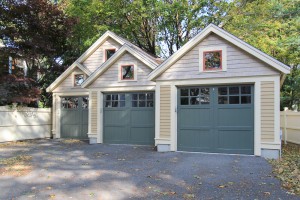 Stage the garage when putting your home on the market!
The garage may not be the focal point of your home but it is a substantial asset. Some people won't even look at a house if it doesn't have a garage. As you are prioritizing, getting ready, staging, and preparing for photos, consider taking the garage to the next level.
Imagine the potential buyer opening the door to your garage and seeing the unexpected. An exceptional, smart use of space rather than the more common, unremarkable, disorganized space that's been given little thought or attention. The garage is often used as an overflow landing zone, especially when staging the house. Whether it is a small space for one car and minimal storage, or an amazing workshop, make your garage the best it can be. The garage is an important space that often times is not presented at its best.
To get the most from your home sale, appropriate effort, resources and time needs to be put into the garage's presentation as well as the home. Don't miss the opportunity to have your garage stand out and be memorable. It will be worth your effort. Browse online and get inspired. Also see the Houzz article asking for people to show how they use their garages. The garage is one of the great places to take the opportunity to make your home stand out. Contact John & Cindy Farrell to help you prepare your home for sale. 978-468-9576