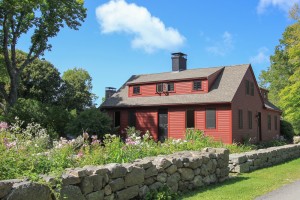 Past property listing.
Drive past Goose Cove and up tree lined Dennison Street, when you get to the top of the street, the landscape opens up and there sits this fabulous older home edged by a stone wall with other fabulous looking homes surrounding it. The original part of this home is circa 1728 with a circa 1920 stone house that is connected through a breezeway.
The original part of the home is believed to have once been a tavern in a compound on a road that led to Dogtown, where many people in Gloucester settled beginning in 1693. The home has nine rooms, four bedrooms, one of which is located on the first floor, and four bathrooms. The house has beautiful pine floors, exposed hand hewn beams and some hardware that was forged in a nearby foundry in the 1920's. The stone house has a room with a wood burning fireplace on the first floor and on the second floor, a kitchen sitting area and full bath. Off of the living room in the main house is a screened porch with a brick floor.
A three car industrial grade garage/workshop was added in 2011. This space has high ceilings with skylights, radiant heat, built-ins and running water. Set on 1.05 acres and includes land across the road.
See 124 Dennison Street featured as "Home of the Week" in Essex County News which includes The Salem Evening News, Gloucester Times and Newburyport Daly News.
Essex County Greenbelt Carter Reservation, 23 acres conserved in 2000 is accessed on Dennison Street.
See the video for 124 Dennison Street Gloucester, MA