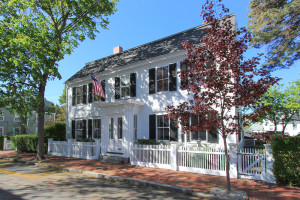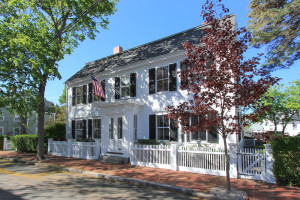 Sold in August 2015.
This home, built circa 1785 is a noteworthy Georgian Colonial sitting prominently on Spring Street. Originally built by Samuel Bayley, a notable local ship owner and merchant with an important family history, this exceptional and updated historic home is located in Newburyport, Massachusett's desirable South End. This is the heart of the city and within a block or so to the stores, restaurants, riverfront and downtown businesses. The Newburyport Historic District, in which the property is located, was listed on the National List of Historic Places in 1984.
Warm and inviting, the street entrance is through a vestibule with fabulous etched glass doors that open to a 36 foot grand foyer that features a floating "good morning staircase". The extraordinary detail of this house is extensive. From the custom built-ins, interior shutters, striking crown moldings and wainscoting to mercury glass doorknobs, wide pine floors, and four working fireplaces.
The home has been brought up to date with the addition of a family room off the kitchen, a large stainless steel kitchen that blends beautifully with the architecture and an updated "mud" room and laundry on the first floor. There are four bedrooms, three full bathrooms, plenty of storage throughout and high ceilings. The attic level is finished and also plumbed to provide additional flexibility. The current owners had the windows that date back to the 1870's restored as needed by the Window Women of New England. There is a free standing, two-car garage in the professionally landscaped, private lot and all mechanicals are updated, including A/C, furnaces and water heater in the full basement.Newburyport is located about 35 miles from Boston and is easily accessible by commuter rail station located nearby, and US 1 and Interstates 95 and 495 are a short drive. The city fronts the Merrimac River and the Atlantic and the ocean beaches of Plum Island are just a few miles away. Also nearby is Maudsley State Park, Waterfront Park, and the Clipper City Rail Trail.