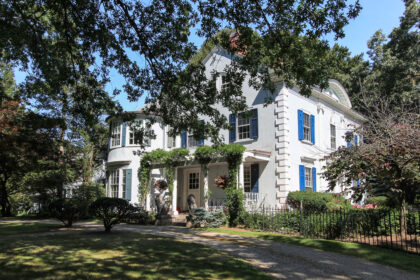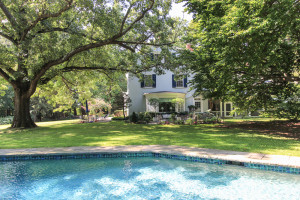 See homes currently on the market in Hamilton and Wenham, MA.
'Rock Maple Farm' is the original center of a 126 acre estate, circa 1859. The property was purchased in 1893 by Ambassador George von L. Meyer. The elegant and historic Colonial Revival mansion was designed in 1901 by the noted Boston firm of Little & Brown Architects. Ambassador Meyer hosted many luminaries in his home, including both Presidents Roosevelt and Taft, and became the first president of the Myopia Hunt Club. The home was originally sited on Bay Road and was moved to its current hilltop location in 1917, then modified in 1936, when the north wing was relocated to an adjacent property.
The arched entry foyer leads into a main hall that accesses a formal dining room, living room and library, all featuring high ceilings, deep rich wood moldings, wood burning fireplaces and large windows that offer abundant natural light. The fireplace in the formal dining room was designed by Samuel McIntyre. The bowed windows in both the living room and dining room provide additional conversation areas. Also on the main level are the kitchen, with butler's pantry and breakfast nook, sitting room with a fireplace, powder room and large screened porch. Just off the screened porch is a terrace and in-ground swimming pool with marble pavers that were originally from the Torlonia Palace in Rome.
On the second level, accessed by an ornate staircase, the master suite features a second McIntyre fireplace, two private bathrooms and a private study. Two bedrooms share a bath with separate hallway, and an additional ensuite bedroom privately situated down the hall has planty of space for a sitting area. On the third level there are several bedrooms, boxrooms and a bathroom.
Many of the household systems have been recently updated, including a Buderus heating system, whole house generator, Rescon basement system, and both septic and electrical systems. The 14 acre park like grounds offer gardens with mature plantings, numerous period garden features including antique Italian urns, and the original formal balustrade overlooking an expansive hillside view.
The original Rock Maple Farm House.
Contact John & Cindy Farrell for additional information and an appointment to view this home. 978-468-9576