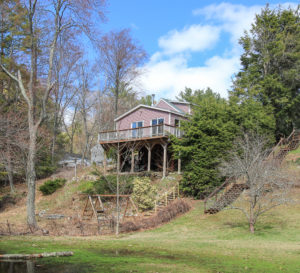 Sold April 25, 2017 for $310,000. See homes currently on the market in Hamilton and Wenham, MA.
This home in Hamilton Massachusetts was built to take advantage of the views. Sitting up high with a full length deck you can enjoy looking out onto Pleasant Pond. The landscape can be appreciated from both inside and out. Idlewild Brook below meanders it's way to the pond.
Located in a neighborhood, it is surprising to walk through the front door and have the home open up to a more private woodland and pond setting.The living room is at the back of the house with windows and two sets of glass doors that lead out to the deck and bring the outdoors in. This spacious room has vaulted ceilings, ceiling fans and a wood-stove.
There are six rooms, two bedrooms and one full bath. An easily varied floor plan allows for a bedroom on the first floor, and plenty of office and studio options. The heating system and roof have been updated by the current owners.
Residents enjoy swimming, fishing, canoeing and kayaking on this 43 acre pond which is located in both Hamilton and Wenham. The pond and the neighborhoods surrounding it have an interesting history and has changed throughout many years.
Accessible to commuter rail and highways.
Contact John & Cindy Farrell for more information and to see this home. 978-468-9576
Save
Save
Save
Save

Save
Save
Save
Save
Save
Save
Save
Save
Save
Save
Save
Save
Save
Save
Save
Save
Save
Save
Save
Save
Save
Save