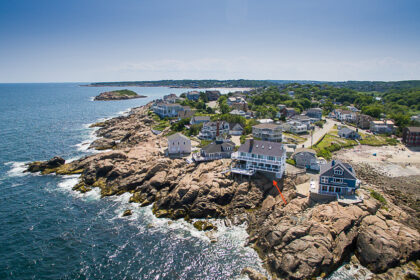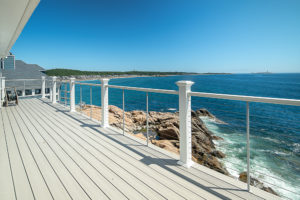 See the video for 20 High Rock Terrace Gloucester, MA.
Sold August 2018.
"On the Rocks" anchored on Cape Ann granite with views of sandy beaches, rocky coastline, and Rockport's famous Twin Lights is this outstanding home. Spoil yourself with sun and moon rises throughout the year, unimaginable colors of the changing sea and sky, and the drama of living this close to the ocean.
Contemporary design, currently set up as a two family home, each with a full length deck and windows that face the sea. Ideal as a family compound, condo conversion, rental property, convert back into a single family, or use one unit for separate guest space.
Both spacious units with wood burning fire places have recently updated kitchens and decks and each has an en suite master bedroom. There is an outdoor shower, and parking for guests you may want to welcome to the beach.
Gloucester, North America's oldest seaport, home to museums, art galleries, dining, sandy beaches and more. Rockport village is just a short drive away. Make this the hub for all of your Cape Ann adventures.
Contact John & Cindy Farrell to see this home. 978-468-9576