Do you have Asbestos in your home? Are you planning to sell?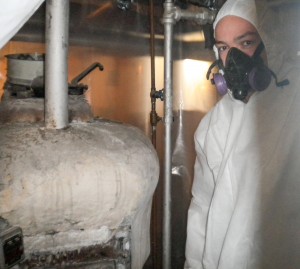 Environmental Concerns – Call In The Experts! Don't touch this……Our housing stock on the North Shore and in New England stretches back to the mid 17th century . These older charming homes, often times historic in nature, may have environmental issues that have come to light in the last 50 years. One of these is asbestos.
Asbestos was used in roofing, exterior siding, insulation on duct work and heat pipes, and floor tiles. If you suspect that you may have this substance in your home, don't try to remove it yourself. Call an expert. This work needs to done properly and the material also needs to be disposed of properly. This is not a DIY project.
If you think your home may have asbestos, contact a qualified professional prior to putting your home on the market. Below are a few resources.
The Massachusetts Department of Environmental Protection is also a good source for information about asbestos.
Many of our clients have had asbestos abatement done on their homes with very little fanfare and their was a great sense of relief when it was done properly.
This is a potential concern that is often overlooked and has the potential to inhibit the sale. We can help you prepare your home early in the process. Contact us for a private consultation 978-468-9576.

Save