Waterfront home with private beach in Prides Crossing – Previews International Property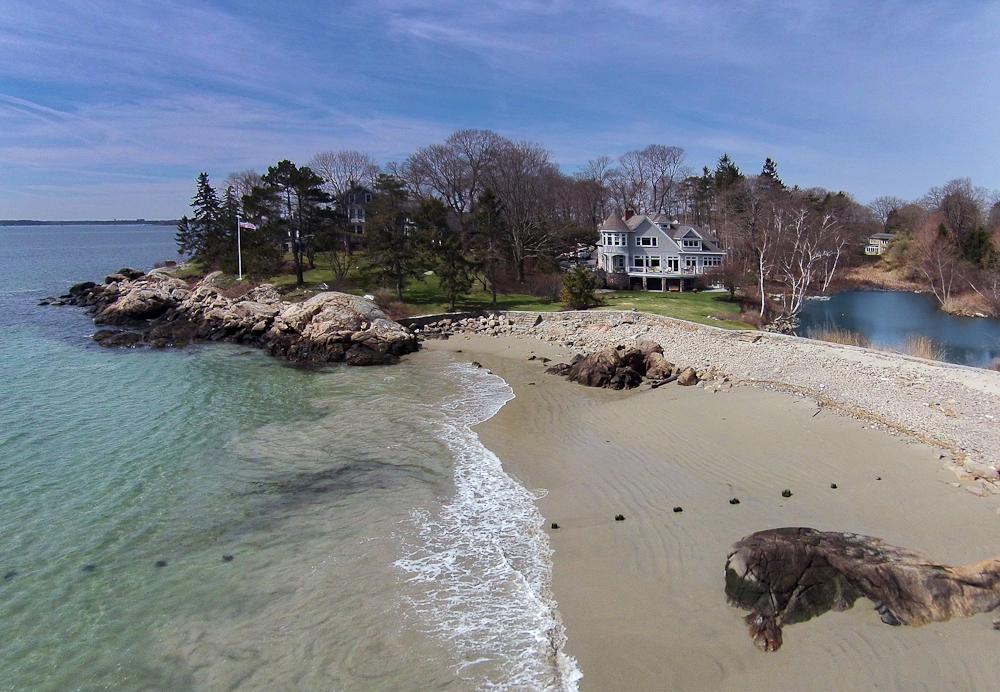 See Homes Currently on the Market on the North Shore of Boston.
The combination of exceptional design, uncompromising craftsmanship, and a superb waterfront location makes this one of the most remarkable residences on the North Shore. A near total renovation resulted in exquisite finishes coupled by sophisticated mechanical systems. Each room in this home is equally comfortable and remarkable from the elegant entry through to the exterior decking and blue stone terrace. Complete with a fire pit, the outdoor gathering space overlooks the ocean, private sandy beach and beautifully landscaped grounds and pond. The grand club like living room featuring dark, rich floors, raised panel walls and coffered ceilings, sits adjacent to the more intimate library with it's marble faced wood burning fireplace. The kitchen is immediately striking with its expansive honed granite island capturing your attention and blending beautifully with the cherry cabinets and exquisite ocean views beyond. The sanctuary master suite's wood burning fireplace, lovely pristine bathroom and dressing room flows seamlessly into the recently added turret space creating an exceptional sitting area that takes full advantage of the landscape and ocean views. Occupying the same floor are three other ensuite bedrooms, a wood paneled office, and central sitting room with stairs leading up to a guest loft.
Additional features include a three car garage a whole house generator and three eighty gallon water heaters. The heating system is a variable volume heat pump HVAC system operating with the aim of efficiently providing an even temperature throughout the year. Ample storage areas are designed and crafted to discreetly blend into the wood work. French doors from the additional tile-floored family room with full bath lead conveniently to a lower level patio equipped with an outdoor shower and hot tub.
Each of the homes unique rooms offer well planned space and harmonious style, accented by noteworthy finishes. Most have ocean and/or pond views. This impressive property provides complete and varied entertainment amenities while maintaining warmth, comfort and functionality for everyday living.
Contact John & Cindy Farrell for a list of additional amenities and details and for a private viewing of this home. 978-468-9576.
Originally Posted May 7, 2014
Save