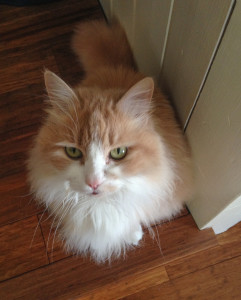 We rarely get asked "What about the pets?"!  Many people don't consider the importance of planning the critical detail of how to manage their pets while their home is for sale.
Pets often behave differently than expected when confronted with an altered routine. A dog that is usually quiet and calm may become extremely upset when their home is being accessed by strangers and their family isn't there. Fear and uncertainty can trigger non-stop barking or uncharacteristically aggressive behavior. Not only is this uncomfortable for your dog, but to potential buyers as well, who may turn their attention from viewing your home and instead try to comfort your dog!
An indoor cat that never tries to escape to the great outdoors can also become scared under the duress of a house full of strangers without their family present. They may hide or wreak havoc, doing all they can to remove themselves from a stressful situation.
We have successfully shown and sold many homes while pets were present and many where the home owners opted to take the dog for a walk, ride or have a trusted caregiver take them before a showing. If feasible, arrange care for your pets in a stable environment outside the home during showings and open houses.
Pet smells are often unnoticed by the people that live with them, because they get used to it. On more than one occasion we have experienced a crated dog that has pooped in it's crate because they were scared and the showing was compromised. Oftentimes buyers choose not to visit a house that has pets for fear of the condition and odor.
Ultimately, the house should look and smell like there are no pets. All food dishes should be cleaned and put away.The litter box should be removed. Place toys, extra food and litter bags out of sight.
Most important is that a pet discussion occurs and a solid plan is put in place.
In addition to wanting to present your home in the best possible light, we want your pet family members to be comfortable through the home selling process.
We can help you prepare your home for the market. Contact John & Cindy Farrell 978-468-9576